I don't have much of import to say today. Many pretty pictures of many pretty yarns and some pretty animals.
I will say that I am very proud of, and very nostalgic for, Bill Clinton. If only the Democrats will learn from his example and get up in people's faces, and stop rolling over and taking this from the media, from the Rethugs, from the administration. Learn from your wise elders, children. And while you're at it, learn from Keith Olbermann, too. He had yet another amazing "special comment" last night, which is widely available both on
you tube
and
crooks and liars
.
In my determination to learn, again, to relax, I spent time yesterday spinning the remainder of the "black cherry" silk/merino blend top that I started a couple of weeks ago. A pound of this fiber netted me six skeins, or about 700 yards of heavy worsted two ply. It's unspeakably soft.
When I got home from work today, the three final skeins were dry out on the porch, so I brought them in then decided to take the wheel and the dogs outside and watch the sun go down while spinning "maple sugar". I do love Copper Moose fiber.
This is one "Maple Sugar" skein with three "black cherries". The maple sugar color is not merino, I think it's coopworth or a blend, but it's still very soft and as all Bill's fibers, a joy to spin. The play of colors in the top...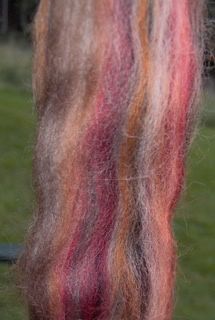 ...comes out beautifully in the finished yarn. I'm trying to make this DK but I'm really having a hard time regulating the feed .... I think it's time I admitted that the Babe wheel, as wonderful as it is, is not the precise tool I'd like to have. But it's ok for my needs, especially for the fibers I've collected in my stash. If I still have as much interest in spinning in a year, maybe I'll start looking at something more refined. For now, it'll do.
We had a nice sunset.
If only we didn't have that light pole. Still pretty.
And here are cute animal pictures. Dylan and Lily, our corgis, have been playing with each other more than usual lately. It's cuter than words.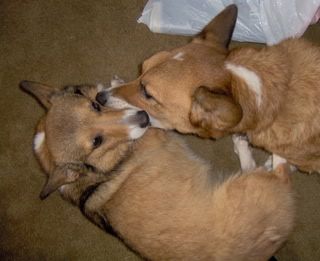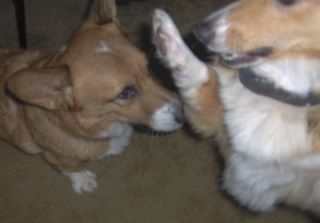 I'm getting better at taking pictures of Figment. He's an amazing cat.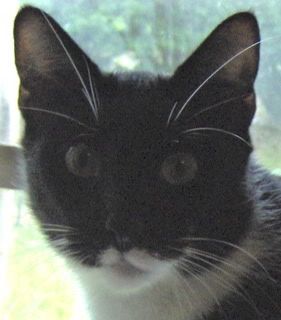 I really can't express the energy that pours off of him. When he stands on your lap to be petted, he seems to weigh 30 pounds. His feet are so heavy. He purrs so loudly that it echoes. He's very ... substantial. In many ways. When he curls up in my lap and gets loved, you can feel the love pouring off of him. Amazing cat. Never knew a cat quite like this.
Bob brought home cat food and stuff today. The cats were waiting for him. Impatiently waiting. Or just appreciating him.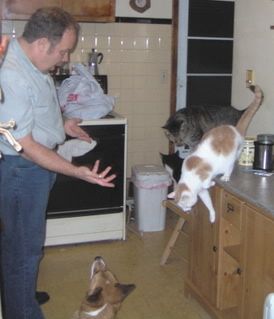 That's about it for now. I'm tired, and crabby, and about to behave in a way that I will regret later, so I'm just going to grab something fast to eat and go to bed.