Clues filter in, bit by bit.
This past weekend, I was at a Mensa regional gathering here in Pittsburgh. I spent quite a bit of time with my friend M, who happens to be a nurse. She was there when my other friend, the Reiki master B was doing some energy work on me. We were talking about my symptoms, and she said I should have my cortisol levels checked. Googling Cortisol today, I found Cushing's Syndrome, which is brought on by elevated cortisol levels, which can be brought on by prolonged stress.
Now I know I've been stressed out for a long time, but I really, really thought I had it under control. Or at least was getting it under control. But more than half the symptoms were things I've been experiencing. Food for thought and something to discuss with the doctor.
Here are some pretty pictures of ongoing projects.
I did get to work on the clapotis a little over the weekend, so it's getting very close to done-I'm in the decrease rows now. I think it looks pretty damn good... can't wait to see it blocked out and finished off.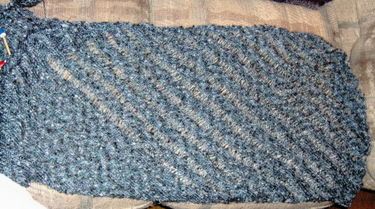 I present to you a sock and a half out of my handspun. I love how the stitches look in this yarn. Nice cozy slippersocks!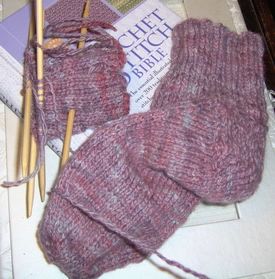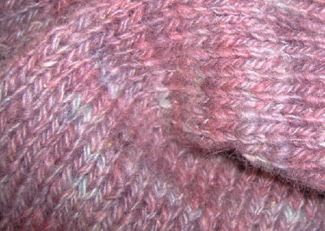 And lastly, some yarn porn. We took a field trip to
KnitOne
during our "craft and complain" session. I got this 665 yard hank of superfine baby alpaca and I have no idea what to do with it... but I can't stop touching it. It's about a sportweight. I'd love to do a shawl but it IS alpaca, so I don't want anything too dense or heavy. Suggestions welcome, bearing in mind that I'm a baby beginning knitter.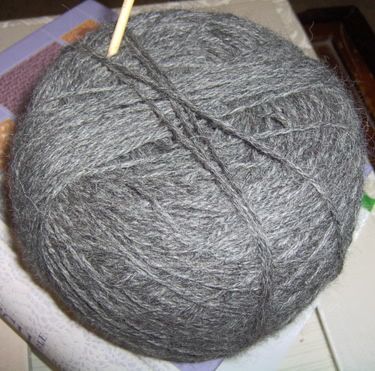 And this shipment of "shimmer" from
Knitpicks
. Again, no idea what to do with it, but love the colors and my goodness it's soft. I wish I was ready for lace knitting... but I can't do anything with this until Anna comes home for a break, because she's my swift!