This has been quite a week.
Pittsburgh lost a mayor. Bob O'Connor, who was a force in local politics as long as anyone can remember, died of central nervous system lyphoma last weekend. By all accounts, the cancer was vicious and relentless. He didn't have a chance once it set in. Bob was a good guy who was determined to make a difference in Pittsburgh and in the whole region. I think he would have done it, too.
Bob was also a big-time Steelers fan. At the home (and season) opener on Thursday, which was also the day of his funeral, fans did this.
(picture copyright pittsburgh post-gazette)
Maybe some people think it was tasteless. Bob O'Connor would have loved it, and he would have loved his son on the field leading the fans in the Terrible Towel wave, too.
Bob O'Connor's death makes me sad. I hope that the many, many years he served Pittsburgh on council and behind the scenes inspire those who succeed him to keep his dream alive. He only got six months, but maybe, just maybe it was enough to kickstart this beautiful town into a new era.
And on to the fiber goodness.
Knit One had a wonderful birthday party, where I ran into an old friend of my mom's who was quite shocked and pleasantly surprised to see me. We spent some time talking and catching up-I look forward to seeing her there another time when it is less chaotic. I got a pattern for my very first lace project, a very simple shawl designed by Lily Chin. I normally don't like her designs, but lace seriously scares me and I need to break the ice somehow, and this is seriously easy. In fact, it might actually be more boring than the Clapotis, by the time it's done. A four row repeat, no lie, with yarnover increases and that's it. But it ought to show off that beautiful baby alpaca just fine.
Also got a hank of cascade worsted in silver to make my former cube-mate a cable scarf... wow, taking on lace and cables at the same time, I AM adventurous! Two BIG balls of sock yarn (the one-pair kind) because sock yarn doesn't really count, you know. I got my mom five balls of some sort of higher end furry fluffy yarn that she loved. She loves that novelty crap. If I got her into that store, she'd be in trouble, but it would maybe, maybe break her of red heart for good. Elizabeth Zimmerman's "knitting without tears" and a set of size two DPNs for our steeler socks completed the excursion. Good stuff! The sales were pretty nice, and as always, the people there were delightful.
Here's a picture of my socks finished and languishing in a juniper.
Less than a week on the bus and breaks at work, those went fast.
The Clapotis is done...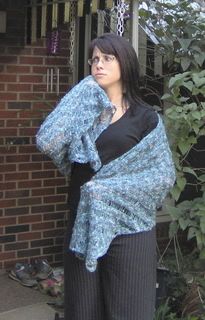 As my lovely and weird daughter models it.