I'm not going to bore you with tales of how my fiendish corgis conspired to prevent me from falling back asleep at 415 this morning. It is sufficient to say that I'm not terribly happy about it. At any rate, I thought I'd take a moment to update.
I'm within about five inches of having a complete set of sweater pieces. I should be finishing it off tonight. It's so boring that I'm not going to post another progress shot, just consider that it's more of the same and be done with it. I will definitely have enough yarn left over to do a crocheted edging on the sleeves and the hem, so I can get rid of the stockinette curl, which I much prefer to the look in the book, which leaves the curl and considers it a "design". I think this yarn is too bulky for that, and I know that I'm definitely too bulky for it.
Also, an Irish Hiking Scarf is on the needles for Bob, and I've started making Log Cabin chair covers for the dining room chairs. I have a pile of Lion Brand Homespun in three different colors that I can't imagine making a garment of any kind out of, but it is working up nicely as decorator fabric. I'm envisioning pillow covers for the living room and possibly a cover for the piano bench, if my hands don't revolt and leap off the ends of my arms in protest at working with so much unyielding acrylic. And who says having multiple projects is a bad thing? This way, I can reward myself for getting more of the log cabining done by going to the Eco Wool that is making the scarf. There are other rewards, the look of the fabric I'm creating is terrific-I'll get some photos up once I get one chair cover finished.
Incidentally, don't ever let anyone tell you that cables are hard. They're not.
I also spun up some Steelers Yarn over the weekend.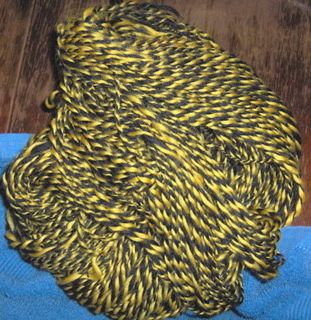 Two skeins, about 115 yards each.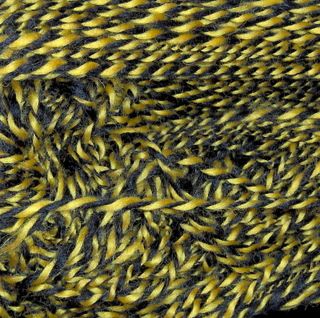 I also made a hat out of the alpaca/merino blend that I spun up a while ago.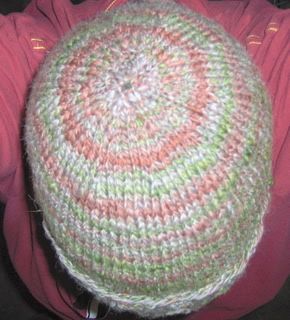 It's WARM.
Yesterday, going from work to the bus stop, I learned something about wool. I knew this in theory, but it was my first concrete experience with it. I had my coat open (dummy that I am) because my hands were full and I was just trying to get to the mailbox. Once I'd arrived at my destination, I was able to do up my coat for the rest of the wait. My neck and shoulders, though, where my scarf was wrapped, were so cozy and warm that it was radiating warmth through my whole upper body. No wonder sheep look so contented.
Friday was my real birthday. I took the day off of work and did some spinning and some knitting. We watched the hockey game and drank some extremely good wine. (Bully Hill Vineyards, seriously delicious stuff.) Friday, Bob took me out to Mad Mex for my official Birthday Dinner. Ate WAY too much. Sunday was the family over for cake. Bob gave me a gift card from Burlington and a dozen roses. Lena gave me a Starbucks gift card. My mom gave me two hats that she made out of yarn I spun for her. I am not sure how I feel about that... it felt like a weird kind of regifting. She also gave me a gorgeous cross-stitched pillow and a box of brainteaser kind of things. It was a too-busy weekend but not a bad one.
I'm working on a concept called "Pronoia". Googling will tell you all you need to know about it. I got the book and am actively trying to apply the concepts to my life. Not easy.
Also, I interviewed for supervisor at work last week. I am unsure as to whether I'll accept if it's offered... I think my sanity is worth more than a one step level increase in pay.