Well, other than the ten-hour day grind, that is.
It was a nice two week stretch of not going in for my regular 9.5 hour shifts. You see, when there's a holiday in the week, I work from 8:30 to 5, and I can take the bus in from Penn Hills. (For now-that's apparently going to change, but that's another rant for another day.)
I finished some projects that made me happy, and have picked up some more unfinished ones. All the Dread Holiday Knitting was completed, happily, and everyone liked what they got. I think. I don't know what my Aunt Ginny thought of her scarf, and my mother's reaction to her shawl was distinctly underwhelming.
I finished the scarf for myself that I was working on over the holidays. It's made of that lovely blue superwash merino that I posted about a couple of months ago. It's a bit over seven feet long, and about a foot wide. It's easily wide enough to be a head wrapping if need be, which is how I wanted it.
I tried several different stitch patterns before settling on a plain checkerboard pattern that showed off the yarn to its best advantage. To me, it looks like rain in an impressionist painting.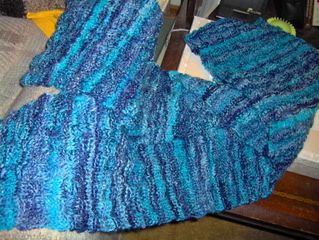 Here's the whole thing...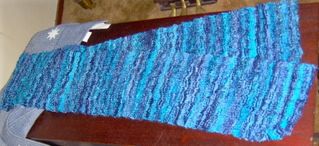 ...and here's a closeup of the stitch pattern.
I just love it. It's my favorite thing that I've knitted so far.
I've also been working on socks for myself...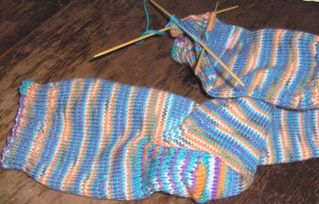 (knitpicks memories-100% merino on size 1 needles)
and for Bob, finally.
(Brown Sheep Wildfoote in a blue/white speckle. I do NOT like this yarn, it's very stringy and splitty-perhaps it will bloom well in washing, I certainly hope so.)
I've started work on the entrelac scarf again, but with a mind toward making it a jacket collar instead of yet another scarf... how many scarves do I need? We'll see. I'm almost through the second ball of yarn and will see how it shakes out.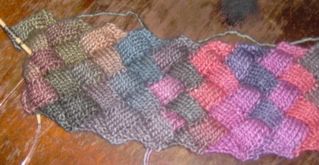 I like how the two different colorways worked out. I'll continue with the darker blue-ish colorway and finish with the same one I started with, if that makes any sense at all.
Got some spinning in over the weekend, too. Gads, I really missed spinning. This is alpaca/merino blend.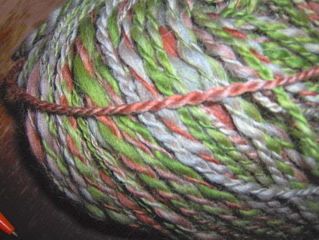 And this is some roving I've had for a long time-I've done three other skeins of yarn from it, and have maybe enough for one more.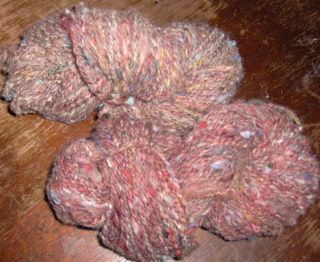 I have no idea what I'm going to do with it, but it's enough to do something "real" with. I'd like to also get back to the roving for my sweater plan, if I can actually get it spun any time before next winter.
I hope to write something substantive soon. For now, pictures will have to tell the story.