Holy cow, am I ever going to have a lot to say tomorrow. Tonight, I'm tired. We were up late last night, and I was very keyed up all day, compulsively checking the internet for updates at work, not getting much if anything done, and being surprised by the depth and breadth of my own feelings. But for tonight, pictures of knitted things.
A few months ago, I spun up a batch of yarn that was two ply. One ply of both colors was a sparkly blended very poofy coopworth type wool. The other ply of one was purple/blue romney. The other ply of the other was green brown sheep mill end. They ended up looking like this.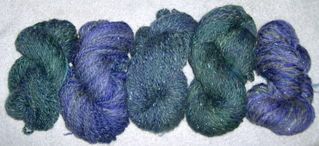 with two more skeins of the blue/purply. Nice, huh? A bit too heavy and not quite soft enough for a next to skin sweater, a bit not enough of it for a cardigan or blazer. So, it becomes another feather and fan comfort shawl, this one for my mother, and it will be sparkly enough for her to wear to the opera, if she chooses. I'm a tad stuck right now because I need longer cables. The knitpicks options 60 inch cable (and 47 inch cables, and a gift book, and some new DPNs, damn free shipping with a $40 order but I digress) are currently in the shopping cart awaiting my paycheck. When I get the longer cable, work on this can commence. It's showing great promise, though, and the knitpicks options needles are a dream to work with.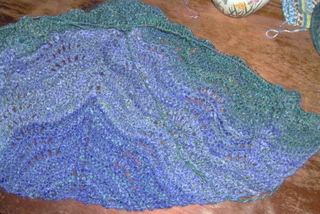 Lena Sock #1 is on the needles. #1 DPNs, my smallest yet. I'm liking the results. Very nice. The yarn is "online" sock yarn, self-patterning. VERY cool, nice soft yarn, will make her a good pair of socks. The thing I didn't like was it was all one ball and I had to really work to divide it into equal parts. I need a scale that measures in grams.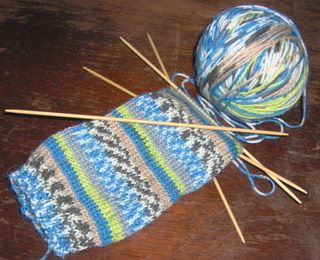 Remember I mentioned the Yarn Harlot 4 stitch pattern scarf that refused to be photographed? It's in a better mood today.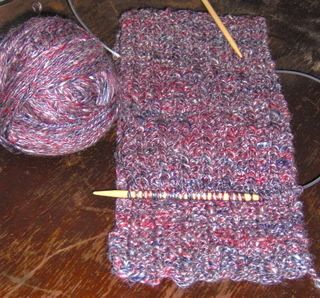 And the warshrags march on.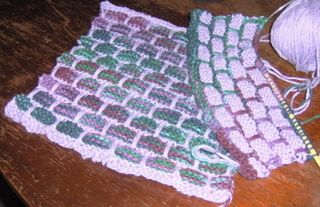 Much more tomorrow. I have a four day weekend coming and plan to make the most of it.