Today's blog entry begins with an apology. I have not had any incisive insightful biting commentary on things political. There are so many who can say it so much better than I. Political expression only happens when I get angry enough, and while I have been angry lately, I feel impotent, helpless, yet hopeful. Hopeful in the sense of the abused spouse who believes, on the face of it, the assertion that it will never happen again, but in her heart of hearts, awaits the next blow. She knows it will come. This is the state of mind in which I await next week's elections. I want to believe. My heart wants to know that this long nightmare of the past six years is coming to an end. But further in, in my heart of hearts, I know the blow is coming. I know the promises are empty. And so, we shall see.
I've never been a good housekeeper. In fact, most people have described me as a slob. This does not bother me; it's fairly accurate as these things go. But lately, I've been working the "flylady" system (
flylady.net
)and it's been working really well for me. The house is usually decent, now. I'm getting into the corners and closets and nooks and crannies gradually. I'm learning routines to pick up after myself. And now when I see clutter, I can deal with it instead of getting frustrated. I can't recommend the system enough, really. It's making a huge difference in my life. But the reason I brought it up is a different one. Today I was doing a decluttering mission in the bedroom, cleaning out junk drawers in my dresser. In the bottom center drawer, I found a dog kerchief, a collar with tags attached, and a stuffed toy. The kerchief read "I'm Max, a Dog Park Regular, '96".
My entire life, I'd been a cat person. I love cats. Cats are low-maintenance. But the kids wanted a puppy, a long time ago when we lived in Springdale, when I was a bus driver, when life was very different than it is now. I did research. Decided a Welsh Corgi, Pembroke was the way to go with a puppy. Herding, so inclined to be smart and self-sufficient. Not inclined to bark overmuch or roll in dead animals. Wash and wear coat, no special grooming needed. It took about six months to find a breeder with an appropriate puppy. We brought Max home in April of 1995. He was about six months old. His name was "Leaning Oaks Conan" but we called him Max, (and registered him as "Leaning Oaks Conan Maxwell's Silver Hammer")and he was perfect. Smart, funny, loyal. We only got seven years with him. He died in January of 2002. I put a few of his things aside in that drawer and didn't see them, really see them, until today.
I still miss that dog so very much. His memory can still bring tears to my eyes, like it was yesterday that we lost him, like the last shovelful of dirt on his grave is still moist and fresh.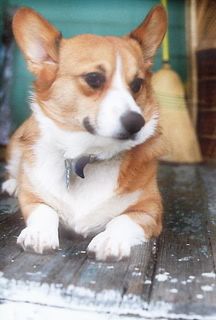 A good and perfect pet is as rare as a good and perfect mate. You're lucky to ever get one. I was very lucky indeed to have Max in my life, even for those seven short years.
On to happier things. I took Melissa her shawl today, and she loved it. We had a nice visit. Arrived back home before gametime and cooked the Korean barbecued beef ribs on the grill-they were amazing. We had tater tots, chips and dip, and generally an excellent meal to compliment a horrid football game. One of the very nice things about having a good system of cleaning and organization is that my kitchen is functional now. It seems much bigger now that the clutter is gone and everything is in its place.
Figment is such a character. He's probably one of the more personality-filled cats I've ever met.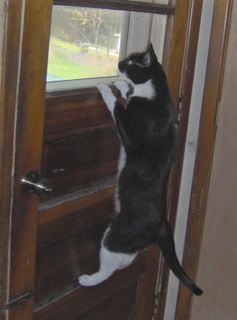 That's his spiderman imitation. And he likes the heat that comes from the router and the cable modem, so I often find him sleeping behind my monitor with his head on the router, leaning on the modem.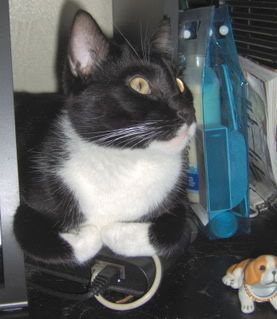 Fall is waning, already, and soon it will be Yule. I like Yule, because even though it marks the beginning of offical winter, it is the day when the light returns, when the days get longer and brighter and spring is around the next corner.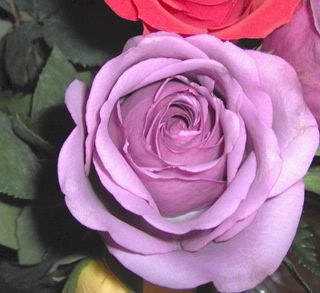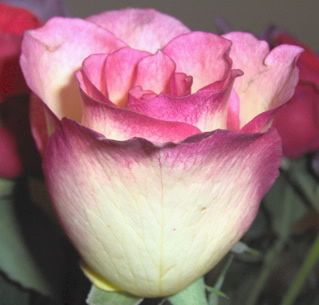 I look forward to the new wing of the conservatory opening in December, too, so we can go see it and absorb some springtime a little early.
Until the next time.