What sort of things scare you?
A lot of things scare me. More than I realize. As my healing process continues, I find that I am more fearful than I expected I was, ever. Last night, coming home from Nanty Glo along Route 22, I was terrified. It was raining, hard. It was dark. I was on an unfamiliar road, full of construction cones and signs and lane shifts and sheer dropoffs. I was frightened.
It was a revelation to allow myself to fear that.
I need to start examining what else I fear. My dear friends in Nanty Glo tell me that my need to appear tougher and stronger and smarter than everyone else is something that I need to examine. Why is it so important to me? What is driving it? I know the answer, and the answer is fear. The weak are taken advantage of. The weak are trodden upon. I was once weak. I am no more, because now I am tougher, stronger, meaner, more inaccessible than anyone. And that way is making me ill.
Far from being proud of my driving skill last night, making the drive home in very bad conditions with no accident or incident or meltdown left me shaken in the depth of my fear and insecurity. You see, I'm a very skilled driver. I pride myself on my driving skill. Nine years driving a city bus did that to me. It made me a damn good driver. But last night I felt like a neophyte and the answer came blazing to me in the midst of it all, in the raindrops and the orange barrels and the onrushing headlights.
I cannot control this.
And that thought terrified me.
On to more pleasant things.
We had a good weekend. We went yesterday to see the Nanty Glo friends and had a very nice visit. I made chili like I haven't made in years, along with cheese biscuits and honey cornbread. It was well received. We soaked in the hot tub, watched Charlie and the Chocolate Factory (I may never tire of watching that movie), then sat and talked and worked on some healing strategies for me. The upshot being that nicotine addiction was disguising a lot of things, treating a lot of things, filtering a lot of things. Hiding a lot of things. I need to start dealing with those things, now, before it kills me dead. So I've been given some easy things to start with, simple meditation and triggering exercises. Here's hoping.
The drive up there was glorious with Bob impressed by the mountain crossing at Chestnut Ridge and the vistas coming over the hills. I was pretty impressed myself. It was beautiful. I think we'll have to go back in a couple of weeks when the leaves are at peak color, it will be spectacular.
Today we went out to Trax Farms near Finleyville. A lot of my friends rave about it so I wanted to see it. It was a beautiful day for pointlessly driving around the city. The place itself was way too crowded but it might be nice to go back when the fall festival thingy isn't going on.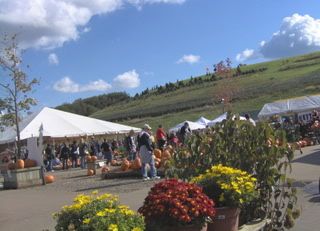 Bob holds some kettle corn to prove he was there.
Random potted flower with bee at no charge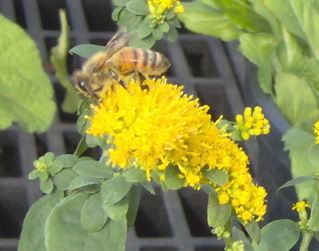 We went to
Point Brugges Cafe
for dinner on the way home. Spectacular food. We started off with a cheese board that I forgot to photograph. It was divine and presented impeccably. Our entrees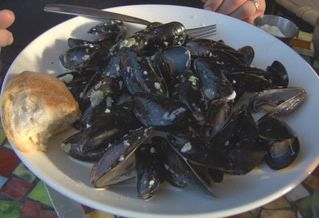 (Bob's pound and a half of mussels)
(and my carbonnade flammade)
were both accompanied by authentic Belgian Pommes Frites.
Divine. Absolutely divine food. I could spend 20 years trying to replicate the gravy from my entree and would fail, happy in the attempt but not coming close. We finished with a simple ice cream shared by both of us, with melted belgian dark chocolate to pour over.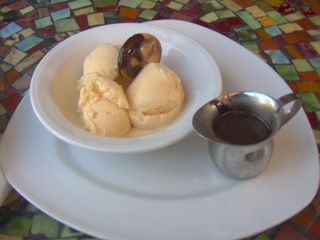 Didn't leave any. At all.
I think we actually drank the last of the melted chocolate.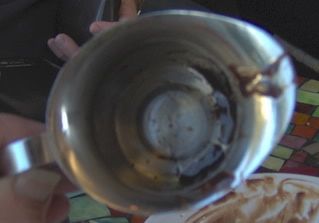 A lovely day. Tomorrow, I hope to get some spinning in. I'm finishing off the second Steeler sock and working on a drop stitch scarf. I'm thinking of starting a pair of fingerless gloves. If I can make them, they may become gifts. One of my problems is trouble focussing on a project for any length of time. I need short, quick rewards. And for now, that is just fine. Healing first, then the rest.