What a surprise it was to find that a week had gone by and I hadn't updated.
The latest scandal out of Washington is no surprise to me. What does surprise me is that they continue to try to blame others, the evil alcohol, the wicked clergy, the preverted homos, instead of blaming the guy who did the deeds, or tried to do the deeds, or thought/emailed/texted about doing the deeds, in other words, the actual sick fuck afflicted with pedophilia, the only cure for which is castration, chemical or otherwise. The amount of filth being swept under the rug is so huge it's taking on the distinct shape of an elephant.
I wish I could draw, that would make one heck of a political cartoon.
In the meantime, how many deaths in Iraq last week? How many US soldiers? How many Iraqi citizens? Way too many. Way too many.
On to happier things. It has actually been a moderately productive fiber week here. I did another skein of the Maple Sugar yarn. It's hanging out to dry with its brother. My current spinning is gold superwash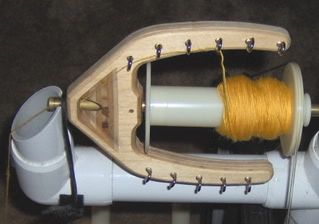 that I initially thought I'd dye because I got it for a really good price. The color turned out to be a sincerely Steelers gold, though, so I might end up doing some self-striping black and gold out of it. I'm (so far) doing OK at spinning it thin, it's nice fiber and easy to control.
I did up two pair of cabled fingerless gloves. The pattern is from Knitty's summer edition, and is called Fetching.
I'll be making more of these because they only take a couple of hours to make and will make great stocking stuffers and showcases for my handspun. I will not, however, be using this particular pink yarn again, because it was far too thick for the size needles I had to use and it caused me a lot of pain to finish them off. But the effect... wow. The cables really popped.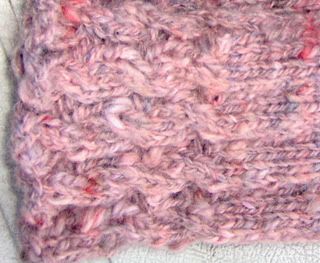 So last night I cast on for a feather and fan comfort shawl for my friend Melissa, for which I'll be using the last of my pink Flynx yarn.
It's a much happier process than the gloves were with this yarn.
There is one pair of steeler socks, and I'm into the leg of sock one of the second pair.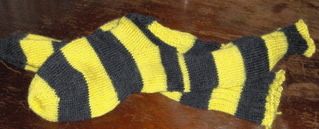 Maybe when they're finished, it'll turn the team's fortunes around. I have to say I was not encouraged by last night's game. One team played the first half, a different, suckier team played the second half. Ugh. I hate to kiss off the season already, but I don't see much choice here. They were bad.
And finally, last night we had a wonderful dinner. We went to Frick Park with the dogs. It was a beautiful day. I was in a lot of pain when we got back from the trail, though, so we drove through Wendy's and got salads and baked potatoes to go with the steaks that were waiting to be grilled. While they were cooking, I got some stuff from the yard and put a vase of flowers on the table. White sage, russian sage, cosmos, and daisy fleabane. I think it's pretty, and it's in the vase our friend De gave us as a wedding gift.