Ah, yes. At last, at long, long last, it has finished.
I haven't much to say except that lo unto these what, two weeks or so that I've been working on this shawl felt like 100 years, and it has finished.
I feel very, very rewarded and I do not regret the time I spent on this. It is absolutely gorgeous. Melissa will love it. It is soft, beautiful, and full of love.
Here it is finished but unblocked, last night, taking up slightly more than half the dining room table.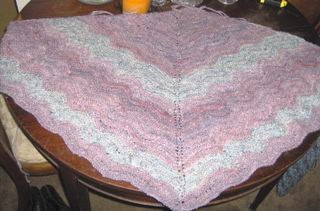 I washed it in the sink with regular laundry soap, rinsed it several times until the water was clear, and gave it a little downy in the final rinse to make sure it is soft, soft, soft. Then I took it downstairs and spun it out in the washer. THEN, I rolled it up in four beach towels and sat on it for about fifteen minutes. It was still pretty wet after all that. I then wove in the ends, and proceeded to start pinning. The dogs got nervous...
...but all was well.
And here it is, pinned out on foam, glorious and at least half again the unblocked size. I was afraid it would be too small, now, if anything, I'm afraid it's too big. I'm going to have to block the very ends seperately after the rest of it dries, because I simply can't get it all on the boards.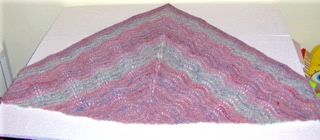 I am amazed at how the detail pops when it's blocked. I hope she loves it.
And here's a gratuitous dog posing picture. Miss Lily, our ham.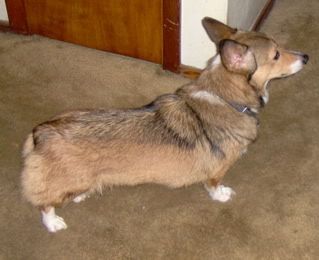 Better update later in the week, I must now go poke and prod at the shawl until it is completely, totally, straight across the top.