I've been doing quite a bit of spinning lately. In addition to the previously posted experiment, i've finished the big ball of "leftovers" roving that I spun one skein from back for Mothers' Day. It yielded two more skeins, both in excess of 150 yards. Probably a bit more than fingering weight in two ply. I kool-aid dyed them with purples and reds because 1)that is what was left and 2) I wanted to see how the different types of fibers absorbed the color. I'm pretty happy with the results.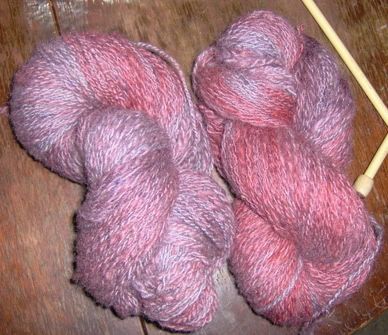 My spinning is getting a lot more even, a lot thinner, and a lot more consistent. And faster. I'm actually considering a pair of socks out of this.
This is from fiber I got from Dawn at Flynx Fiber. It's got everything in it from bamboo to alpaca to merino to mohair to silk to cotton. It's a joy to spin. I already spun almost a pound of her fiber in a more straightforward pink/lilac and got about 1400 yards of a worsted. This is a heavy worsted with more variation in color. I think I'll get another skein or maybe even two out of the roving that's left. Should net a total of about 1200 yards, because I'm spinning this thicker to stay consistent with my earlier efforts. I love Flynx Fiber (http://www.flynxfiber.com) and hope she posts more fiber for sale soon.
here's the yarn so far-you can kinda tell which were the earlier skeins but not too much.
Here's the roving-gorgeous stuff.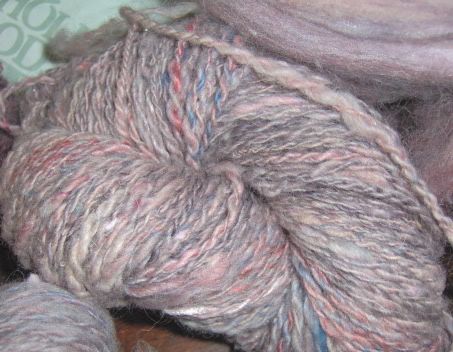 yarn close-up. you can see all the diff. colors.
Here's the original Flynx fiber I worked with.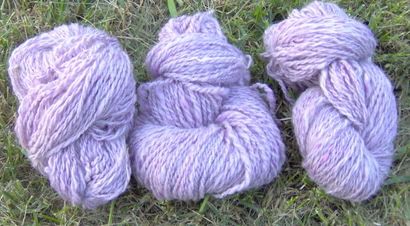 This yarn is already promised to make a shell for my older daughter. She's approved the pattern and I think it's within my limited knitting abilities.
You know what's really funny? I don't even like pink. My favorite colors are greens and blues. And sometimes, purple.